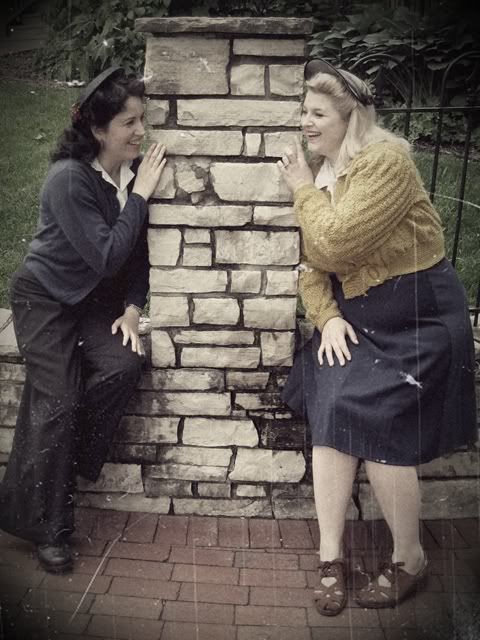 Sunday was Bunny's last full day in St Louis. We began the day with brunch at Magpie's on Main Street, then walked along Main Street for a while so Bunny could enjoy some of the best parts of my hometown. She laughed and said it's like walking through my blog!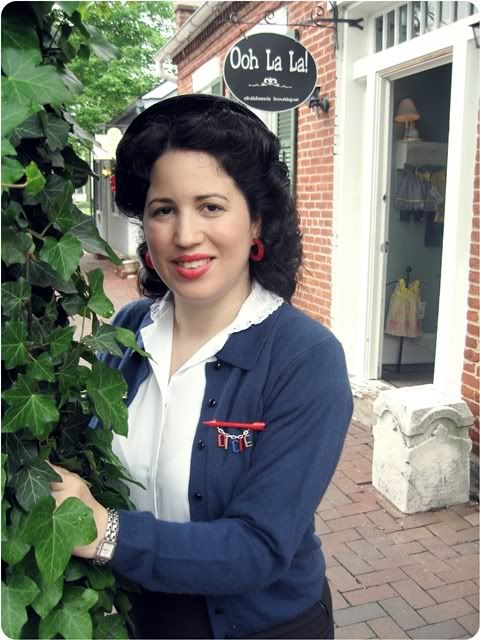 We took some pretty pictures with me behind the camera most of the time.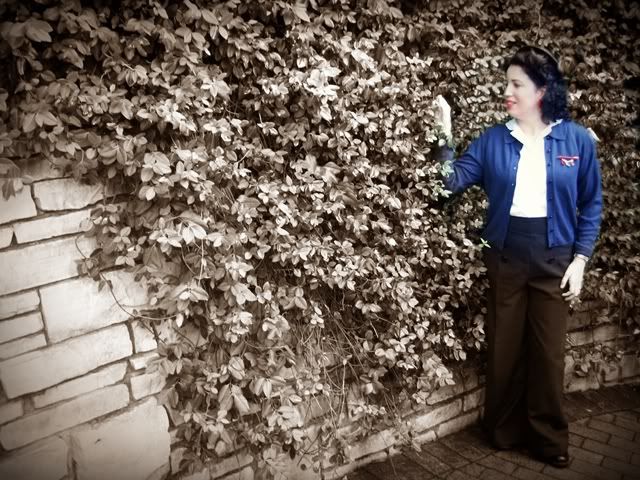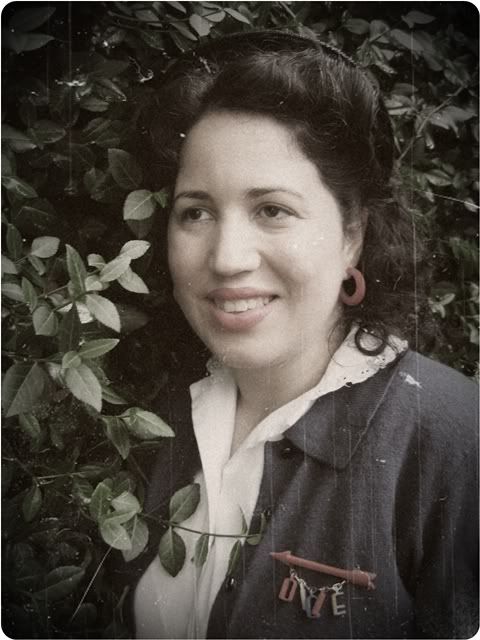 Check out her 40's celluloid brooch, which reads "Dicie". Does anyone have any idea what the phrase means? We thought "Dicie" as in "the weather will be getting pretty dicie" but not sure how that has anything to do with it. The seller told her it was a 40's slang word meaning "cool" but we have no idea!
We stopped at the sweet shop for candy for her babies and chocolate covered cherries for us mamas.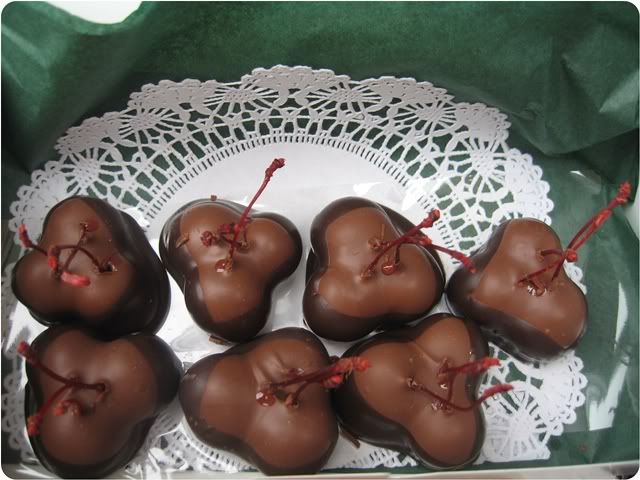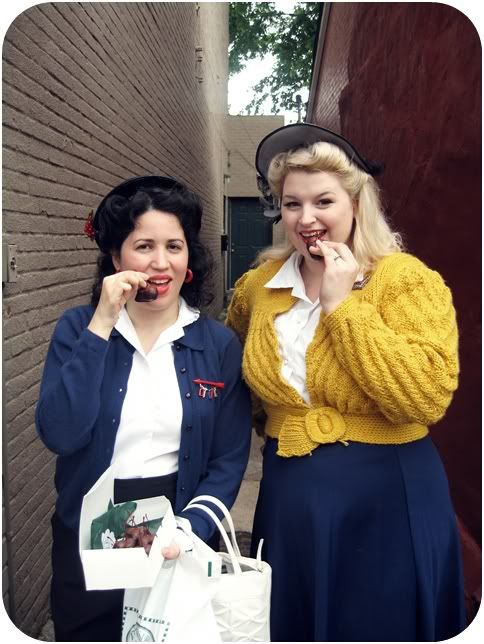 After main street, we ventured all the way out to Jefferson Barracks to go to the World War II Weekend. We got a late start and made a wrong turn and ended up at the Jefferson Barracks National Cemetery. I have never been to the cemetery before but I'm really glad that we made a wrong turn. While the kids napped in the van, Pj, Bunny and I stepped out for a very respectful moment of silence, all of us nearly moved to tears and very thankful for all of the lives sacrificed in the name of our freedom and protection.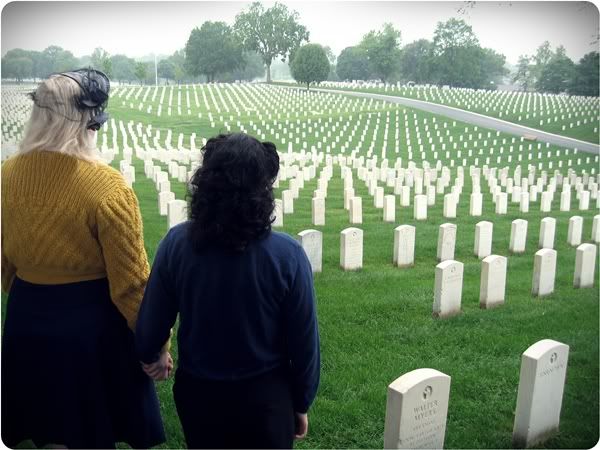 The graves here date from 1826 to present day. The cemetery covers 331 acres, a sea of white headstones. I couldn't help but imagine each stone being a a person standing there, frozen in time. Many wives were buried here next to their husbands. Pj's great Aunt Ester, who ran a military hospital during WWII, rests at the cemetery. The most difficult part for Bunny and I were to see the children and the unknown soldiers. I really cannot put those feelings into words. We spent a long time standing there, thinking of the people who served bravely and honorably for us. Pj said "If anyone ever has trouble being proud to be an American, they need to come here."
It was a comfort to see a beautiful deer grazing in the peaceful cemetery.
After a while, we left the cemetery and found our way to the park hosting the WWII event but apparently, they wrapped it up early due to rain and we missed it. We were lucky enough to get to chat with one lone soldier, protecting a tank until his fellow German soldiers returned with a tow truck and burgers. This is Chuck, an artist and newbie reenactor. He showed us some pics of the weekend and I think he persuaded Pj to join in the fun next year. Sure, he plays the enemy but he's a nice fella so we won't hold it against him. We will return next year, for sure and I believe that Bunny and her hubby will be going to a big WWII event in Pennsylvania.
Pj and the kids went to bed and it was just us girls. I helped Bunny set her hair in her new pillow rollers and we enjoyed pina coladas, potato chips and watched Down with Love till we couldn't keep our eyes open anymore.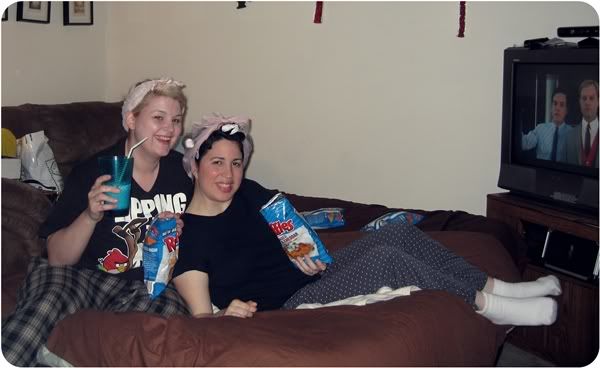 In the morning, Bunny flew back to her family and home in New York. We are already planning a trip to visit her in The Big Apple. We had a wonderful weekend and silly as it sounds, I think it was a life changing weekend for all of us. We had a lot of long talks about family, friends, marriage and children and life as a stay at home mom. All of us made life-long friendships with each other. It's funny how a silly thing like vintage fashion and blogs can bring people together. We still chat nearly every day and our babies love to Skype with each other. I hope for many more weekend visits with Bunny Moreno.
Outfits
Bunny
Brittany
white eyelet lace blouse-thrifted vintage white blouse-estate sale
blue cardigan-thrifted 1940's date maker cardigan-knitted by me
navy trousers-handmade by Brittany 1940's veiled hat-
The Vintage Haberdashery
1940's cherry straw hat-
Sydney's Vintage Clothing
navy skirt-thrifted
1940's "dicie" brooch-etsy 40's repro wedges-Aris Allen